Bridge Street, located in Bradenton Beach is a historic staple of Anna Maria life offering unlimited activities, shopping, restaurants, views, and the celebrated Bridge Street pier. Now known for it's lively environment and colorful buildings, Bridge Street originally served a much larger purpose, as it was the only access point on to Anna Maria Island from the main land. Filled with character, Bridge Street is a perfect family friendly outing destination for a day or night of fun!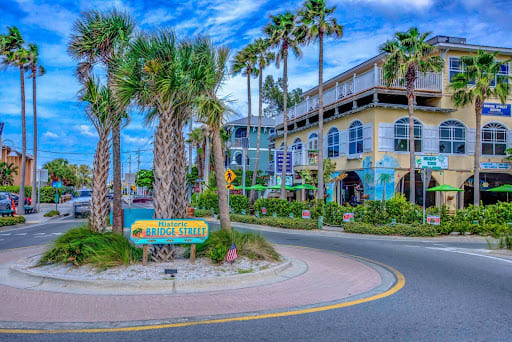 Bridge Street Favorites
Bridge Street Bistro
Raised up above the popular Bridge Street is a hidden gem with an expansive view of the Gulf of Mexico, Bridge Street Bistro. Serving contemporary American dishes and an intimate atmosphere, it is a local's favorite destination for celebrations and gatherings alike.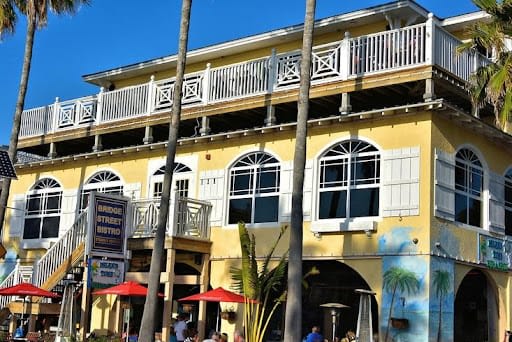 https://bridgestreetbistroonline.com/
Located at:
111 Gulf Drive South
Bradenton Beach, FL 34217
Island Time Bar and Grill
Island Time Bar and Grill has a reputation for providing great entertainment paired with a relaxed tropical setting, the epitome of island dining and a world of fun! Their menu includes staple beach fare made with the fresh caught fish and quality ingredients. Rumor has it you won't find a better margarita or a colder beer on the island. They offer live music nightly from 7 - 10 pm with some of the best local acts.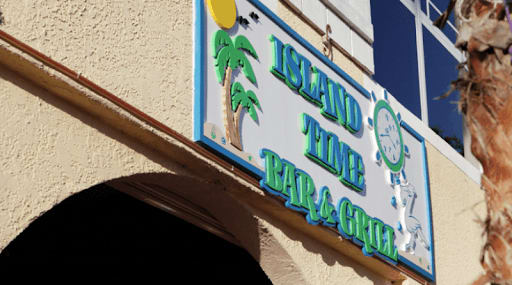 https://islandtimebarandgrill.com/
Located at:
111 Gulf Drive S
Bradenton Beach, FL 34217
Daiquiri Deck
The Daiquiri Deck on Bridge Street is the newest of its five locations along the Gulf Coast. Rooftop, patio and indoor seating are all available for anyone craving a frozen tropical drink and a view of the historic Bridge Street happenings. Offering causal Florida fare and a never-ending frozen drink list, this is certainly the coolest place on Bridge Street. Happy hour is offered daily from 3 – 7 pm.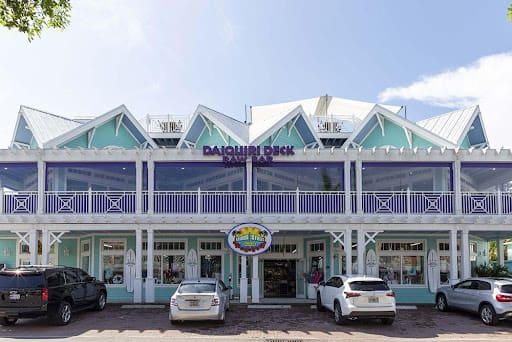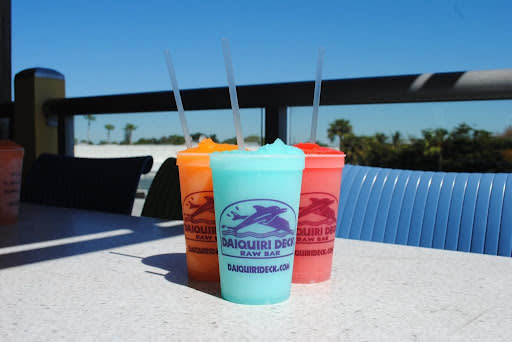 https://www.daiquirideckannamaria.com/
Located at:
107 Bridge St, Bradenton Beach, FL 34217
Bridge Street Bazaar
If shopping is on your agenda while exploring Bridge Street, this is the place to stop! Bridge Street Bazaar has been family owned and operated since 1987. They offer their customers a wide selection of quality goods including t-shirts and beach novelty items as well as everyone's favorite beachwear brands: Costa and Salt Life. They are open 9am to 9 pm 7 days a week.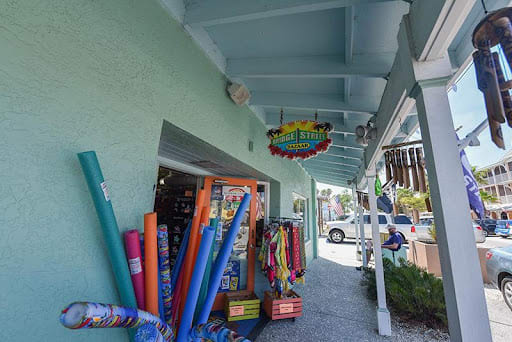 Located at:
117 Bridge Street
Bradenton Beach, FL 34217
The Fish Hole
The Fish Hole miniature golf facility is a wonderful destination for family fun! Located at the heart of Bridge Street, elaborate greens, misters (to stay cool), lush landscaping and a giant koi pond provides the perfect 18 hole environment for future PGA phenoms to rule the course. The Fish Hole also provides party packages for unique birthday celebration.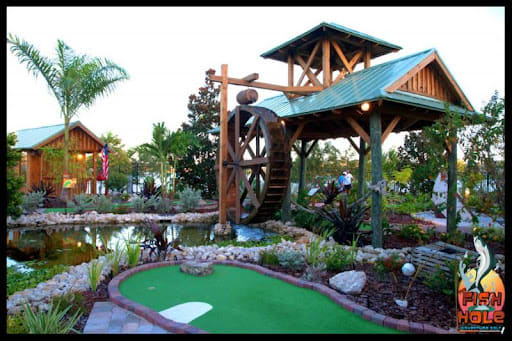 115 Bridge Street
Bradenton Beach, FL 34217
Sea-Renity Beach Spa and Bou-Tiki
Sea-Renity Beach Sap and Bou-Tiki is the perfect place to relax and unwind as they offer spa services including professional skincare and massage therapy. Not only is their indoor facility a true oasis, but they are the only spa on Anna Maria Island that offer massages on the beach in their private tiki hut. After a massage, browse their on-site Bou-Tiki that features the work of several dozen local artists and jewelry designers.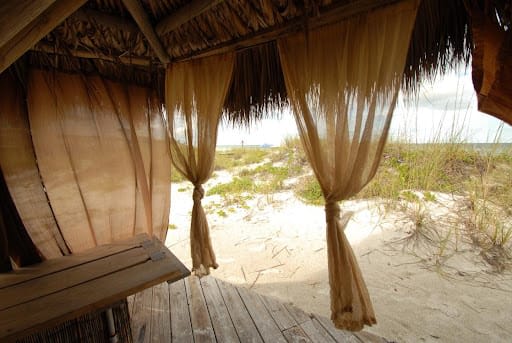 Located at:
112 Bridge Street
Bradenton Beach, FL 34217
Fudge Factory
The Fudge Factory on Bridge Street is a haven for all things sweet. Selling only the best homemade fudge, homemade ice-cream and homemade chocolate, the intoxicating smell that wafts out the door will draw in all who pass by. In 2002 the Fudge Factory was originally established, located in Wildwood, NJ and has expanded since to Sarasota and Anna Maria Island.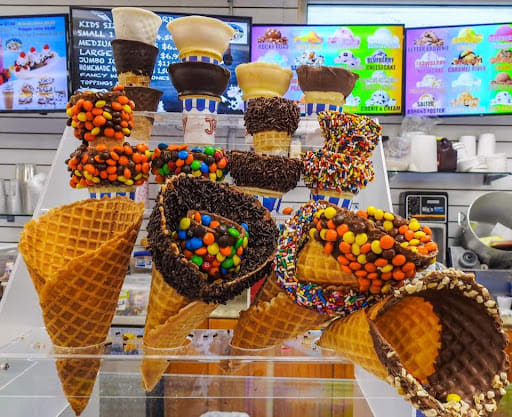 Located at:
117 Bridge Street
Bradenton Beach, FL 34217
https://www.loc8nearme.com/florida/bradenton-beach/fudge-factory/7530286/

Blue Marlin Seafood
Blue Marlin Seafood is undisputedly one of the most special restaurants on Anna Maria Island and it is located right on Bridge Street. A quaint outdoor space with a small tiki bar and stage makes up the perfect environment for a quality dinner with amazing live entertainment. Inside you will feel right at home in a cozy booth surrounded by antique décor. Their cuisine focuses on daily fresh fish brought in directly from the local Cortez fishing fleet. The local fish selections provide the freshest fish possible and allow for a variety of specials consisting of that day's catch.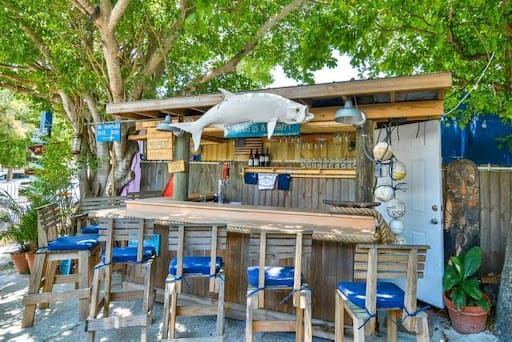 Located at:
121 Historic Bridge Street
Bradenton Beach, FL 34217
The Island Creperie
Island Creperie is a delightful place to get breakfast or lunch. They have freshly baked croissants, mouthwatering crepes and savory sandwiches. The mouthwatering smells, and vibrant environment will feed your soul and your tummy. The menu is comprised of breakfast options, 26 different dessert crepes, salads, quiches, sandwiches, and more, which all pair perfectly with their offering of a Mimosa or Bellini.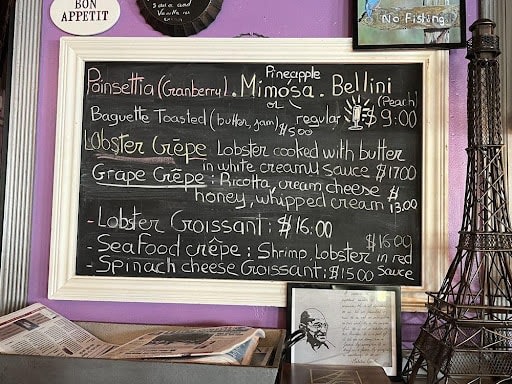 Located at:
127 Bridge Street
Bradenton Beach, FL 34217

Bridge Tender Inn & Dockside Bar
Voted #1 four times in a row, Bridge Tender Inn features a casual dining setting that is loved by locals and tourists alike. Established 30 years ago, Bridge Tender Inn is a great sports bar and grille to eat, drink, and socialize. Watching a televised sports event at the bar, enjoying their dining room or breathing in the ocean air at the tiki bar are all on the menu at this establishment. You can chug beers, eat lip-smacking food, enjoy live music, and make great memories in a comfy, laid-back setting.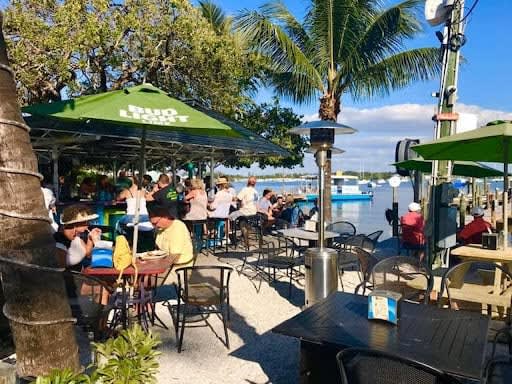 Located at:
135 Bridge Street
Bradenton Beach, FL 34217

Anna Maria Oyster Bar on the Pier
Situated on the Historic Bridge Street Pier, Anna Maria Oyster Bar on the Pier is a destination with a view! You can arrive by land or sea as boat docking is available at the pier. AMI Oyster Bar offers lunch and dinner along with a full bar. Whether you prefer raw, steamed or fried oysters, AMI Oyster Bar has them all, along with a vibrant menu of appetizers, entrees and drinks galore.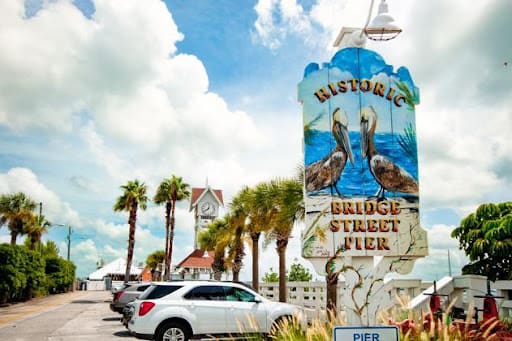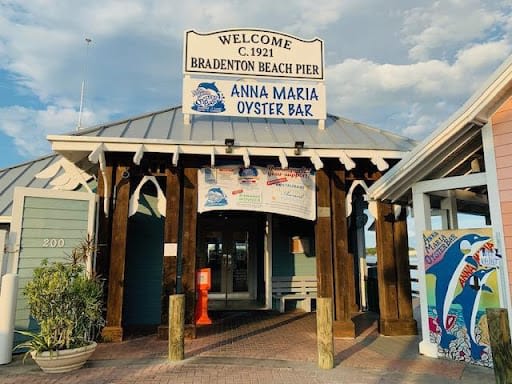 Bridge Street Bait Shop
The Bridge Street Bait shop does, in fact, sell bait but oh so much more! Offering boat tours, parasailing and fishing charters, The Bridge Street Bate Shop is a one stop location! Jump into your swimsuit and onto the water when you book activities at this fun centered business.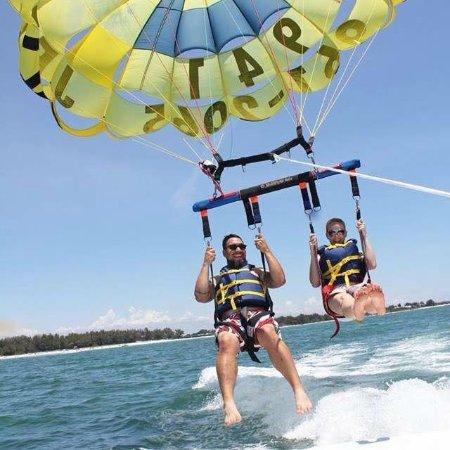 https://www.bridgestreetbaitshop.com
Located at:
200 Bridge Street, Building A
Bradenton Beach, Florida 34217